With many teams still working remotely, Halloween is a perfect excuse to boost morale with a virtual meeting. (Because who doesn't want to show off their costumes?) But remember, attendees think past the stale video calls these days. So why not transport them aboard a 1920s train to a crime thriller? Or how about exploring the mummies in Egypt or the celebrity ghosts in Hollywood?
From quizzes and pumpkin carving to escape rooms and scavenger hunts, these activities from team building companies across the country have something for everyone.
FOR THE WHOLE FAMILY
Are you looking for something age-appropriate so that the little ones on your team can participate? Teambuilding.com offers a Virtual Halloween party filled to the brim with Halloween quizzes, ice breakers, apples, and other fun, family-friendly games that encourage team bonding and connections while getting participants in the Halloween mood at the same time. The standard Halloween party lasts 90 minutes (30 more minutes can be added for additional activities if desired) and is fully moderated on a secure videoconferencing line by an energetic host and a co-moderator who keeps track of all the tech details . The virtual party offers space for nine to 300 people. A fun touch? Teambuilding.com's video editors can create a dynamic Halloween party trailer as a clever reminder of the event.Teambuilding.com's virtual Halloween partyPhoto: Courtesy of Teambuilding.com
Another fun, family-friendly option for groups and remote workers is a Virtual pumpkin carving Great from TeamBonding. The participants receive their own tool set – consisting of a scraper shovel, four tools and two pumpkin light packages (BYO pumpkin) – and a master sculptor guides them virtually through the production of their own works of art. The experience can be customized to incorporate a company's messages or themes, and prizes can be added for a competitive aspect. The event usually lasts 1-2 hours and can accommodate 10 to 200 people.
Or how about a virtual magic show? Prominent magician Johnny Wu, founder of the aptly named Cyber ​​witchcraft, offers a fully virtual magic, mentalism, mind reading and hypnosis show available on any device to participants around the world. Wu specializes in turning the experience into a team building exercise and can incorporate a company's core values, message or logo directly into the magical acts. The interactive experience can last 15-60 minutes and is available for corporate events, birthday parties, and yes, Halloween gatherings. It is suitable for all ages; Price is available upon request.
FOR THE WORLD TRAVELERS
If your team is lacking travel (who isn't?) What's better than a Halloween-inspired trip around the world? Discover Live can take guests virtually to the mummies of Luxor, the horror stories of Lima, Peru or the ghost stories of central Tokyo with its Halloween Around the World experience. The 60-minute personalized activity uses full HD video quality and can accommodate groups of 10 to 1,000+ people. Discover Live works with experienced local guides who are trained in virtual travel and can share their expertise. The price depends on the tour details.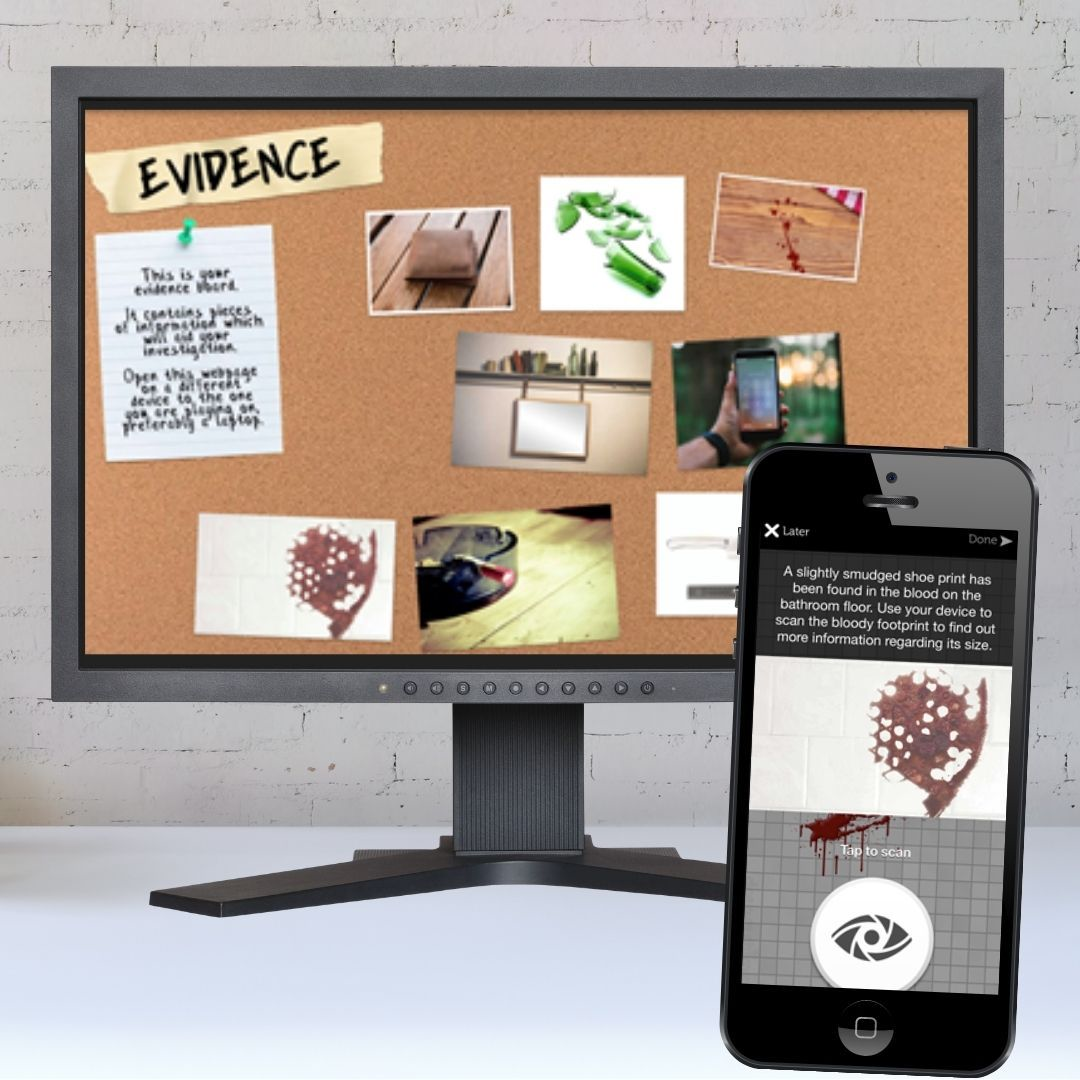 iMystery from Corporate Event Interactive: Manor House MurderPhoto: Courtesy of Corporate Event InteractiveFOR THE LIKE DETECTIVES
What better way to bring a team together than indulging in everyone's hidden desire to be a detective? Corporate Event Interactive offers a range of Halloween-themed virtual mystery and escape room games, including iMystery: Manor House Murder, in which virtual groups team up and play detective at a fictional crime scene. Using Zoom and a downloadable game app, teams explore an interactive map and solve tasks and challenges that lead to further evidence. Image recognition and augmented reality technology can be used to advance the investigation and find the killer.
For a historical touch, Corporate Event Interactive also offers iMystery: Murder on the Train, in which guests are virtually transported to a moving train from the 1920s. Both of these customizable activities can accommodate 3-300 people and typically last 60-90 minutes. Package prices start at $ 950 and include a pro conference, zoom requirements, the game app, and more.
Teambuilding.com also has a fun, virtual game for amateur detectives called International monster hunter. The teams follow clues, answer quizzes and work together to track down and capture monsters and other strange creatures on every continent of the world, from the Loch Ness Monster to Bunyip, Chupacabra and Ebu Gogo. The 90-minute game – with an energetic main moderator and a co-moderator who focuses on the technical details – is conducted over a secure video conference line. It can accommodate between nine and 300 people.
FOR THE PROBLEM SOLVERS
Escape rooms have proven to be a popular virtual option – and with the right theme, are perfect for Halloween team building. TeamBonding's Haunted House Virtual Escape Room, for example, was specifically designed to improve teamwork. Teams are "trapped" in a six-room haunted virtual house and must work together to solve secrets that they release in each new room and eventually out of the house. Under the direction of a professional facilitator, each team selects one player to be the "ghost whisperer" while the others are designated as "investigators". In addition to solving puzzles, there are photo challenges and other fun icebreaker-style experiences. While the teams are divided into four to five people, there is no limit to the number of participants.
Meanwhile, Watson Adventures offers one Haunted Online Halloween Scavenger Hunt. Through the zoom-based experience, the host sends teams into breakout rooms, where a browser-based app leads them on a trail of clues through a variety of websites and virtually guides them to haunted locations and creepy stories like the Salem Witch Trial Memorial. the Hollywood hotel where Marilyn Monroe's ghost is said to reside, Philadelphia's creepy Eastern Penitentiary, and more. Watson Adventures also offers a kids version of the scavenger hunt, as well as a Halloween quiz game.
FOR THE TRIVIA BUFFS
Speaking of the little things, who doesn't love a little friendly competition? Interactive Entertainment Group offers Spooky Trivia, where groups can prove their knowledge about Halloween. Every time a question about Halloween comes up – with topics ranging from horror films to Christmas traditions – attendees have 20 seconds to save their answers via their smart devices. When the time expires, points will be awarded to those with the correct answer. The activity, which typically lasts around 60 minutes, can hold up to 1,000 players. Prices are available upon request.
Spooky Trivia by the Interactive Entertainment GroupPhoto: Courtesy of the Interactive Entertainment Group
Corporate Event Interactive, meanwhile, is offering the iQuiz Halloween Spectacular, a spooky, customizable version of the company's technology-driven game where teams use their mobile devices to collaborate on Halloween-themed quizzes and photo and video challenges to earn points. Like the company's mystery games, the activity can accommodate 3-300 people and typically lasts 60-90 minutes. Package prices start at $ 950 and include a pro conference, zoom requirements, the game app, and more.
FOR THE MUSIC FANS
Event company Yaymaker offers a range of fun fall and Halloween-inspired virtual event ideas, including escape rooms, quizzes, and guided cooking and decorating classes. But a highlight that is sure to make you laugh? Musical bingo. Each guest receives two virtual bingo cards with random, Halloween-inspired songs – think Thriller, Monster Mash, and other classics – and is led through four rounds by an interactive host. The 60-90 minute game costs $ 19 per person with a minimum of 15 guests, and guests are encouraged to wear their best Halloween costumes.
FOR THE GHOST HUNTERS
How about an old classic: ghost stories around the campfire? Yes, it can be recreated virtually! Unexpected Virtual Tours offers a Ghost Stories activity for virtual networking and team building. Combining spooky stories with fun campfire challenges, the event features two live in-studio guides and a live virtual tour guide who take guests through the science and art of storytelling while telling historical ghost stories and encouraging attendees to tell their own . There is also a livestream visit to a Victorian cemetery and a costume contest, and participants can have a DIY S'mores kit sent to them to prepare their own goodies over their mini candlelight "campfire" (a tealight candle). The 60-minute event typically costs between $ 15 and $ 85 per person, depending on gift boxes and other customizations. Discounted rates are available for educational institutions and nonprofits.
And for a unique entertainment option, Salem ghosts– which typically hosts personal tours of Salem, Massachusetts, home of the 17th century witch trials – is now offering live video ghost tours of the streets of over 20 cities including Philadelphia, Denver, Baltimore, Boston and Washington, DC live for $ 15 per viewer, where guests can interact with the local guide in real time and ask questions. They're also available on-demand for $ 13 per ad.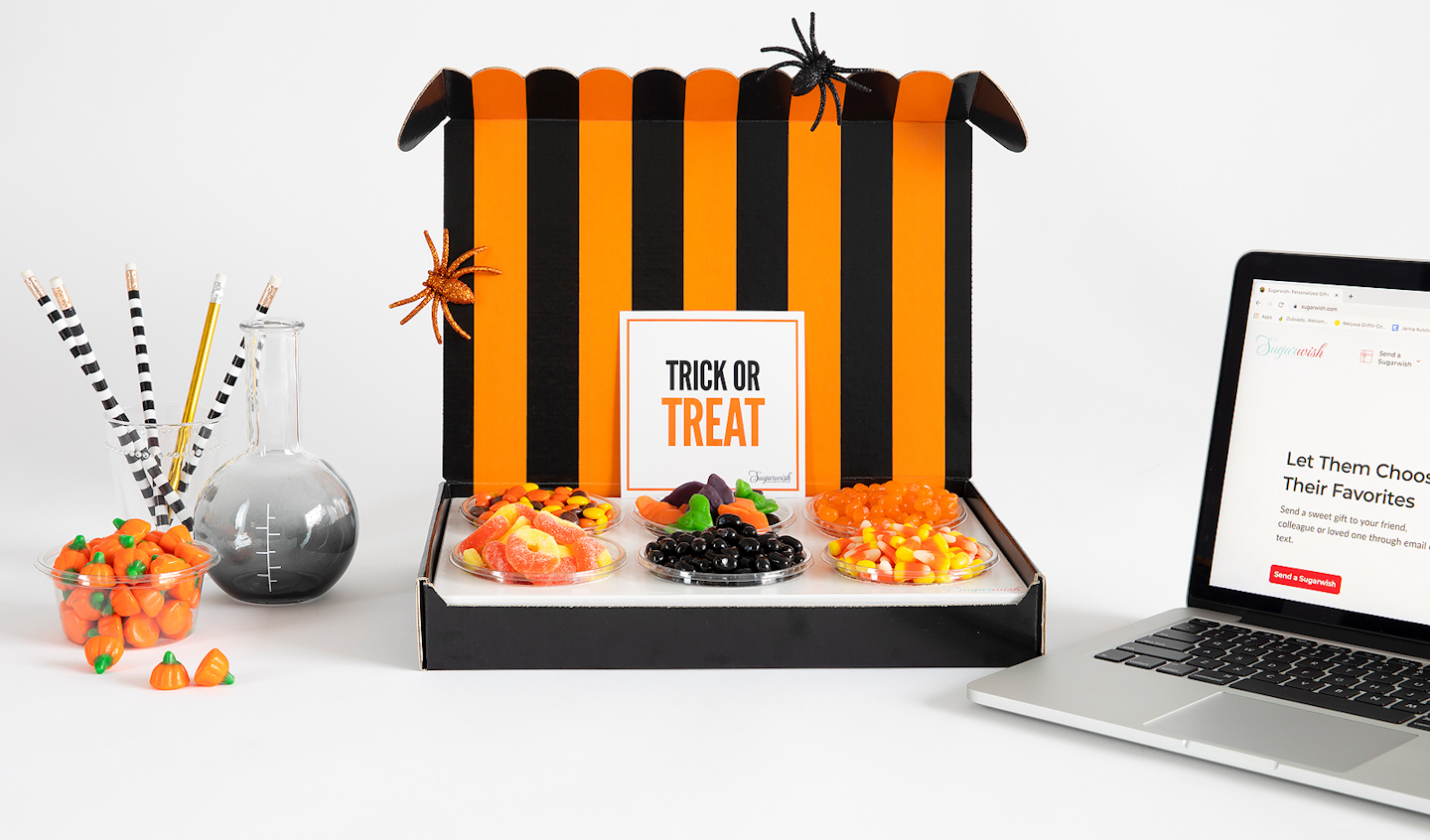 Sugarwish's Halloween candy boxesPhoto: Courtesy of Sugarwish
FOR THE TEAMS THAT ONLY WANT THEIR HALLOWEEN TREATS
Check out our Roundup of Food Based Virtual Team Building Activities – Halloween Cookie Decorating Class, Anyone? In addition, the culinary travel company Avital offers a variety of seasonal cocktail experiences, including its virtual Halloween experience Tricks & Treats. Groups receive cocktail kits with the ingredients for a pumpkin chai mojito and are guided through the process by an award-winning mixologist. As soon as the cocktails are prepared, the moderator leads the guests through a unique taste experience with berries, fresh citrus fruits, jelly beans and kombucha. The 60-minute experience starts at $ 50 per person.
And what is Halloween without candy? Whether you're sending your team a Christmas present or want a cute addition to a virtual activity, Sugarwish currently offers customizable Halloween candy boxes. Recipients will receive a link to an online treat shop where they can choose between candy, cotton candy, snacks, biscuits or gourmet popcorn; Sugarwish then delivers its selection in an eye-catching Halloween-themed box. Gifts start at $ 22.